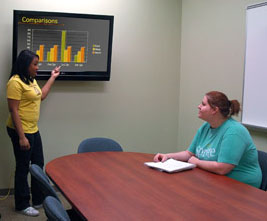 The Presentation Practice Room, located in room 214 of the Main Library, can be used by students to practice their PowerPoint and multimedia presentations. The Presentation Practice Room is available to any KSU student or students for up to two hours per day.
Equipment Available
PC with monitor to view presentations
Flat-panel screen to display presentations to an audience
Wall connection for laptops
Whiteboard with dry-erase markers and erasers
Conference table and seating for up to six students
Policies
The Presentation Practice Room is bookable during the service hours of the 1st Floor Ask Me Desk. At all other times, the Presentation Practice Room is on a first-come, first-served basis. The room can be reserved up to a week in advance. Please bring or have available your confirmation email for reservation confirmation.
Please note: This room is intended for groups and individuals to practice and edit presentations. Additional Group Study Rooms are also available on the second floors of the Main Library using the LibCal. Also, there are study rooms on the first floor of the Main Library that are available without scheduling.
Users of the Presentation Practice Room agree to the Presentation Practice Room Policy and Use Guidelines.