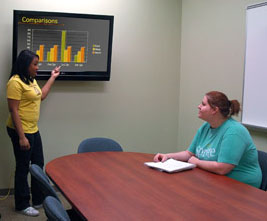 OPENTING NOVEMBER 2, 1028
The Flash Studio is an easy to use video recording studio for producing high-quality video projects. Equipped with a high-definition video camera, microphone, and video light, the automated controls allow the user to record their presentation without any previous video production experience. Insert a USB flash drive into the desktop panel, wait 15 seconds for everything to turn power up, push a button, and you're on! The studio can be used with our without supporting visuals such as PowerPoint or Keynote. When you're done presenting simply press the stop button, wait a few seconds for the video to finish copying to your flash drive, and then remove it. The system powers down and your flash drive now contains a standard format video file of your presentation. The studio allows users of any experience level to create videos quick and easy, at the push of a button, and without having to know anything about lights and cameras.
Equipment Available
High-definition video camera with shotgun microphone and video light.
Video confidence monitor
Automated equipment control with video encoder
PC with confidence monitor for presenter view
Flat-panel screen to display presentations to an audience
Desktop HDMI connection for laptops
Backdrop curtain for recordings without presentations
Policies
The Flash Studio is bookable during the service hours of the Student Multimedia Studio. At all other times, the Flash Studio is on a first-come, first-served basis. The Studio can be reserved up to two hours per day up to two weeks in advance . Please bring or have available your confirmation email for reservation confirmation to the first floor circulation desk to check out the room key.
Please note: This Studio is intended for individuals and groups to record or practice presentations. Additional Group Study Rooms are also available on the second floors of the Main Library using the LibCal. Also, there are study rooms on the first floor of the Main Library that are available without scheduling.
Users of the Flash Studio agree to the Flash Studio Policy and Use Guidelines.